Classic Peking Opera in Beijing » Liyuan Theatre Tickets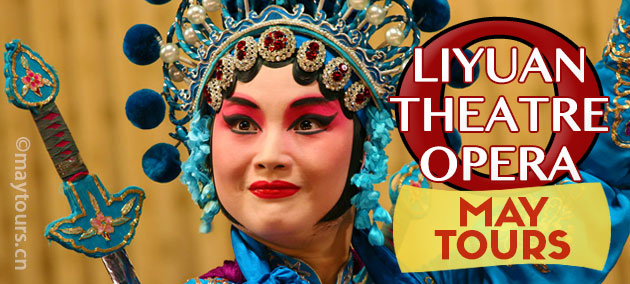 Introduction
With more than a 10 year old history, more than 4000 performances and an audience of millions the show has evolved into a unique showcase for the Beijing opera house scene. The play is based on styles of kung fu, monkey and dancing. Resulting in an entertaining and exiting performance as the story unfolds. Catering both Chinese and foreign visitors, the provided english subtitles will help even the inexperienced join in and become engaged with the spirit of Peking Opera. Liyuan Theatre is the home for the Peking Opera Theatre production company since 1990. (Official website: www.liyuantheatreopera.com)
Liyuan Theatre Seat Map & Discount Ticket Price List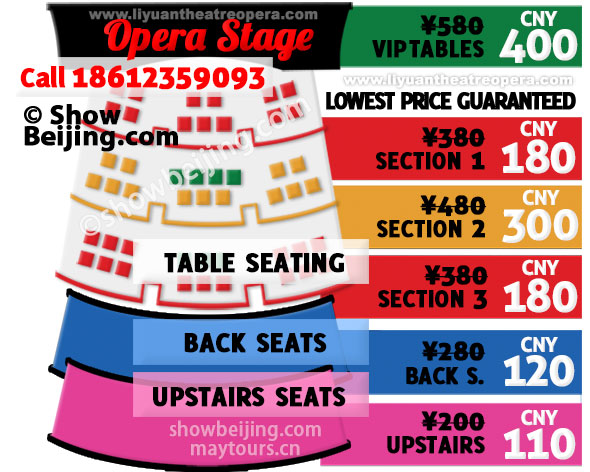 Prices are displayed per ticket in Chinese Yuan (CNY). Discount available only when purchased directly from our staff at the venue.
Liyuan Theatre Discount Booking Form
Getting to Liyuan Theatre

By Subway — The nearest subway station is Hufangqiao station on line 7. A short walk to the theater.
By Taxi or Rikshaw — To go there by taxi is a short and inexpensive trip from most downtown locations. However taxies are often difficult to find at this time which is why we recommend using public transportation when possible. You can go to the nearest metro station (see below) and from there you have more possibilities. If you cant find a taxi you can most probably find a rikshaw, both which cost just 10 yuan. You can also print/copy the following message and show it to the driver:
请送我到梨园剧场,位于前门建国饭店(西城区永安路175号), 电话:63016688,谢谢!
Translation: Please drive me to the Liyuan Theater, located in Qianmen Jianguo Hotel (175 Yongan Road, Xicheng District), Tel: 63016688, Thank you!
By Bus — Also there are the following direct buses: 7, 14, 15, 23, 66, 70, 102, 105, 603 (Get off at: Hu Fang Qiao Lu Kou Nan) and 6, 15, 105, 687 (Get off at: Yong An Lu).
Find Us at Liyuan Theatre!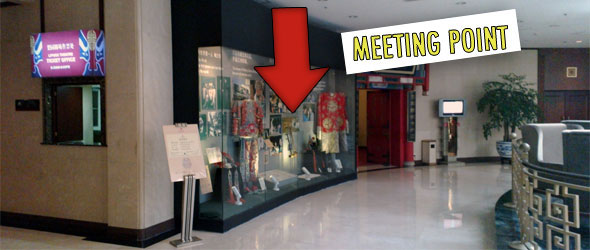 Liyuan Theatre is located inside the Qianmen Jianguo Hotel. Please look for our staff holding your name in front of the display which is right next to the ticket window. (See picture)
Please note that our staff will provide you with the tickets, the discount is not available directly from the ticket window. If you cannot find us, experience delay or cannot come, please inform us by phone, text message or e-mail. See you there!
---
Please leave us a vote below if you have seen the performance, thank you.