Kung Fu Show in Beijing » Red Theatre Tickets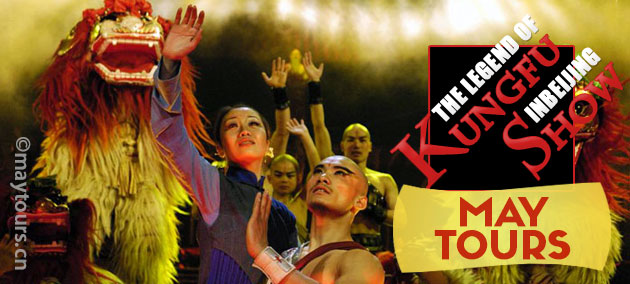 The Legend of Kung Fu Show in Beijing is a modern theatrical production mixed with traditional martial arts. Presenting stunning kung fu skills, exquisite dance, acrobatics and music this beautiful story in no doubt has become the most loved Kung Fu show in China. The show made its first appearance on the Beijing stage in July 15th 2004. Since then it has received numerous awards and toured around the world to become a world class spectacle known throughout the world. (Official website: redtheatrekungfushow.com)
The Red Theatre in Beijing venue is home for China Heaven Creations. A big stage production company with a focus on Chinese dance productions. The show is one of the star performances of the production company.
The show tells a moving story about a young man and his quest to become the master of Kung Fu. On his path he has to cross many obstacles that challenge his physical abilities as well as test his spiritual growth. To succeed he has to overcome both his own mind and the world around him.
Red Theatre Seat Map & Discount Ticket Price List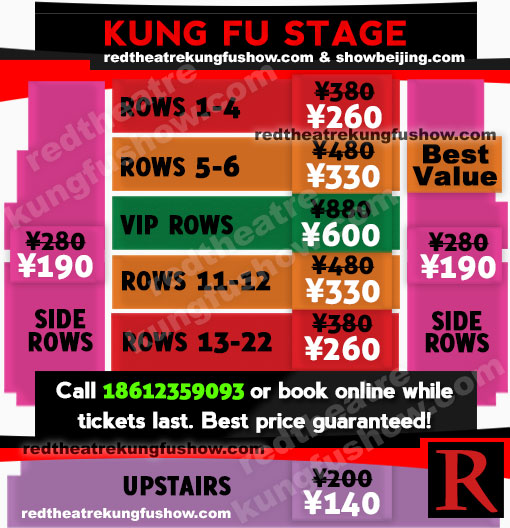 Prices are displayed per ticket in Chinese Yuan (CNY).
Red Theatre Discount Booking Form
Show starts daily at 7:30PM (show at 5:15PM not available)
Getting to Red Theatre

Red Theatre is near the east gate of the Temple of Heaven and Tiantandongmen subway stationin in Beijing. From there you can walk, take a rikshaw or taxi to the venue. The address is: 44 Xing Fu Da Jie, Dongcheng District, Beijing. (Just across the street from Tiantan Hotel) See Google maps.
By Taxi — To go there by taxi is a short and inexpensive trip from most downtown locations. For the evening show we recommend coming by subway because taxies can be difficult to find.
By Subway & Rickshaw — The nearest subway station is Tiantandongmen station on line 5. Please exit the station from exit B. You can take one of the many rickshaws waiting just outside of the exit or look for a taxi, both which cost 10 yuan. Also it's a 15 minute relaxed walk from the station. See the map above for directions.
You can print or copy the following message and show it to the taxi/rickshaw driver:
请送我到红剧场,(东城区幸福大街44号), 谢谢!
Translation: Please drive me to the Red Theatre (44 Xingfu Street, Dongcheng District), Thank you!
---
Leave us your vote when you have seen the show. Thank you.