Flying Acrobatic Show in Beijing » Chaoyang Theatre Tickets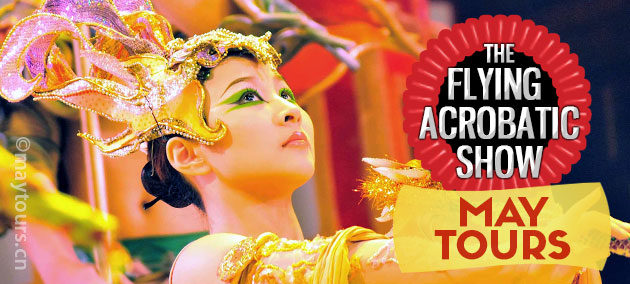 Show Introduction
The Flying Acrobatic Show is the highlight of acrobatics in Beijing. Often compared with Cirque du Soleil, this colorful spectacle features extreme stunts and a vibrant show atmosphere. The show is a landmark in the evolution of the 2000 year old acrobatic history in China. Performed twice a day at the prestigious Chaoyang Theatre in Beijing. (Official website: www.chaoyangacrobaticshow.com)
Chaoyang Theatre Seat Map & Price List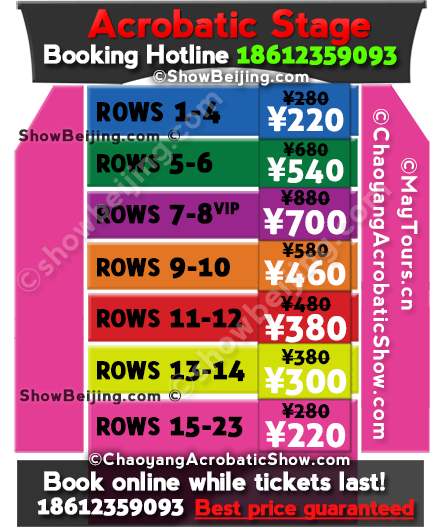 Prices are displayed per ticket in Chinese Yuan (CNY/RMB).
Tickets must be paid in advance through PayPal. All major credit & debit cards are accepted. If you cancel at least two hours before show starts, you will receive a full refund of the price of tickets.
---
Discount tickets available through a reservation with May Tours. After your booking is paid & confirmed, you can purchase your tickets from the theatre ticket window before the show starts. Please, have your name and booking number ready to buy your discount tickets.
Chaoyang Theatre Discount Booking Form
» Tickets can be sold out fast, make your booking as soon as possible.
» Please if you are late or cannot come, contact our staff by e-mail, phone or SMS.
Getting to Chaoyang Theatre

The area — Chaoyang Theatre is in the Chaoyang District of Beijing. The area is also known as the "Beijing central business district" Beijing CBD. Nearby sights include CCTV tower and Chaoyang Park with a total area of 300 hectares.
By Subway — The easiest and most reliable way to get there is by subway. Hujialou station on line 10 & 6 is right next to the venue. Just take exit C and you can see the big theatre building on your left when you exit the metro building. (see above for metro map)
By Taxi — Coming by taxi is a short and inexpensive trip from most downtown locations. However available taxies are often hard to find, especially during the evening. That's why re recommend coming by subway whenever possible. You may also print or copy this message and show it to a taxi/rickshaw driver to get there:
请送我到朝阳剧场,(朝阳区东三环北路36号), 谢谢
Translation: Please drive me to the Chaoyang Theatre (36 North East Third Ring Road, Chongwen District), Thank you!
---
Have you seen the show? Please, leave us your vote!